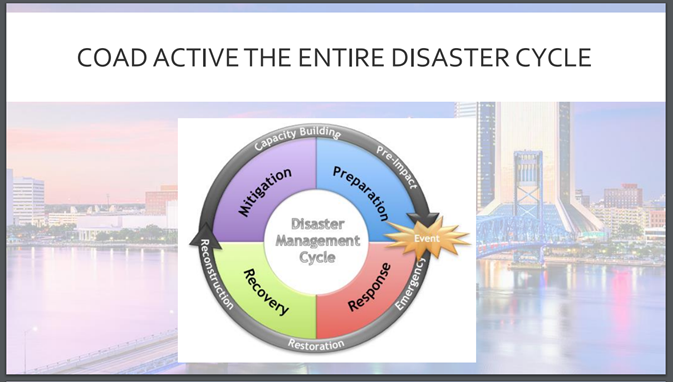 Purpose is to bring together nonprofit organizations, businesses, and governmental agencies to deliver hope and foster more effective preparedness, mitigation, response and recovery for the people of Duval County as needed in times of disaster, through:
Cooperation: creating a climate of cooperation, information sharing, and meeting together;
Coordination: encouraging a common understanding and providing a liaison with city-county government officials, as well as resource management with the community;
Communication: publishing and disseminating information; and
Preparedness: increasing mutual awareness and encouraging effective disaster-related training, policies and procedures.
The Duval COAD is currently convening regular calls to monitor and respond to the COVID-19 pandemic. To get connected, email coad@duvaldisasterrecovery.org.
Helpful Partner Links
https://nonprofitctr.org/covid-19/
https://unitedwaynefl.org/disaster-relief/